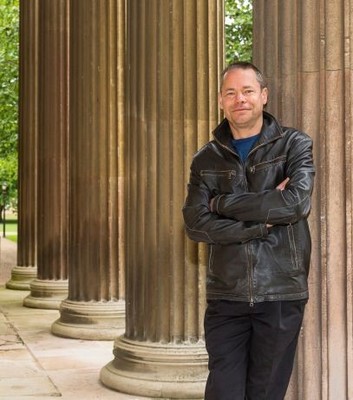 Speaker
David Wales, Prof., Department of Chemistry, University of Cambridge
Time
2018.05.23 16:15-18:00
Venue
601 Pao Yue-Kong Library
Abstract
The potential energy landscape provides a conceptual and computational framework for investigating structure, dynamics and thermodynamics in atomic and molecular science. This talk will provide an overview of methods for global optimisation, quantum dynamics, the thermodynamic properties of systems exhibiting broken ergodicity, and rare event dynamics. Applications will be presented that range from prediction and analysis of high-resolution spectra, to coarse-grained models and design principles for self-assembly of mesoscopic structures.
Bio
Education
Prof. David Wales was educated at Newport Free Grammar School followed by the University of Cambridge, where he was awarded an open scholarship to study at Gonville and Caius College, Cambridge receiving his BA degree in 1985. He went on to complete a PhD on cluster chemistry, awarded in 1988 for research supervised by Anthony J. Stone. In 2004 he was awarded a ScD degree (higher doctorate) from Cambridge.
Career and research
During 1989, Prof. Wales was an English-Speaking Union Lindemann Trust Fellow at the University of Chicago, doing postdoctoral research with R. Stephen Berry. He returned to a research fellowship at Downing College, Cambridge in 1990, was a Lloyd's of London Tercentenary Fellow in 1991, and a Royal Society University Research Fellow from 1991 to 1998. He is now Professor of Chemical Physics and Chair of the Theory Group in the Chemistry Department at Cambridge.
His research focuses on energy landscapes, with applications to chemical biology, spectroscopy, clusters, solids and surfaces, and machine learning. He is the author of the monograph Energy Landscapes: Applications to Clusters, Biomolecules and Glasses and coauthor of Introduction to Cluster Chemistry with Michael Mingos.
Awards and honours
Prof. Wales was awarded the Meldola Medal and Prize in 1992 and the Tilden Prize in 2015, both by the Royal Society of Chemistry. He was a Baker Lecturer at Cornell University in 2005, and the Inaugural Henry Frank Lecturer at the University of Pittsburgh in 2007. He was elected a Fellow of the Royal Society (FRS) in 2016 and is also a Fellow of the Royal Society of Chemistry.
关于ZY-INS沙龙
致远学院作为我校基础学科拔尖学生培养试验基地,旨在培养引领未来的科技领袖,目前已有数学、物理、生命科学、计算机科学、化学、生物医学及工科500余名学生;自然科学研究院作为我校基础研究的交叉创新平台,旨在根本性提升交大的基础研究水平,目前已从海外引进30余名学者。两院共享位于思源湖畔的风景如画的物理空间,自然科学研究院的学者也已经成为致远学院创新型和国际化人才培养有力的师资来源。
ZY-INS沙龙将提供精美的点心、咖啡与茶水,为两院师生之间的交流提供一个轻松活泼的平台。沙龙将邀请学者做有关科技、人文、艺术等方面的内容新颖的主题演讲。
欢迎致远学院和自然科学研究院师生参加!